In honor of
Book Lover's Day
on August 9, my writerly pals and I are having fun by sharing all the ways we adore reading. Please join me and the "lovely" bloggers listed at the end of this post who are also "Book Lovers!"
My first reading book.
Hi - I'm Grammy Pags! I'm a mom, a grandmother, a retired elementary teacher, and a children's author. On this "Book Lover's Day," I'm going to share some book love from "Dick and Jane" (early readers of the 1950's) to the imaginative, fantastic, contemporary (2012-16) "Land of Stories" series by Chris Colfer!!
A look back:
Some of the first books I remember reading from my childhood were the old (now ancient)
Dick and Jane
books. For those of you who have never heard of these beginning school readers, the text went like this:
"See Dick. See Jane. Look Dick. Look Jane. See Spot. See Spot run. Run Spot run!"
I have to chuckle. Even back then, it was difficult for me to grasp that this was "real" reading! We did learn to read, but thankfully books for kids have come a long way!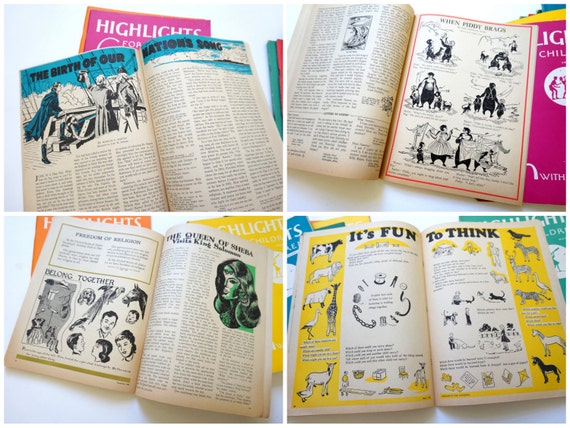 An inside peek of some of
the original Highlights magazines.
Great, educational magazines for kids today,
and Highlights Magazine is still around!
As I got older, I enjoyed reading books from our classroom and school library. But in the summer, our little town had no library, so my brothers and I were stuck with our well-read Golden Books from our own personal stash. About that time, a new magazine for kids started to gain popularity. It was called
Highlights
. Our parents let us order the magazine, and we could hardly wait for the mail to come on "Highlights Day." The little stories, puzzles, games, hidden pictures, connect the dots, kept us busy and entertained for hours. Kids today are so lucky to have such a wide variety of books and educational magazines.
Some of my favorite comic books
and comic book characters!
As a kid, some of my favorite chapter books were
The Wizard of Oz
, the
Nancy Drew Mysteries
, and any and all books about baseball. Biographies about Mickey Mantle and Babe Ruth were two of my favorites.
When we went to the grocery story, we loved to read the comic books while our parents were shopping. We'd use our allowance to buy one or two of our favorites. They cost about $0.15 each.
I love picture books for kids. I also enjoy reading these books outloud, especially when the characters are fun and funny, and my grandchildren serve as my audience! I think I do a pretty good "Grover" impression, and my Skippyjon Jones voice is fun too!
I used to read outloud to my 3rd and 4th grade students every day. Some of our favorite chapter books were by authors Bruce Coville and Roald Dahl.

I think our all time favorite book by Bruce Coville was My Teacher is an Alien. For some reason, my students were convinced that I was the alien teacher in our classroom!!
Today, my reading for pleasure books vary from mysteries, to adventures, to thrillers, to books with spiritual themes. I also read non-fiction, but I'm more of a fiction fan. Here are a few of my favorite authors and books:
Madeleine L'Engle's A Wrinkle in Time
Sir Conan Doyle's Sherlock Holmes mysteries
Agatha Christie's Miss Marple and Hercule Poirot mystery series
I love all of Dan Brown's books. We were fortunate enough to go to Rome, Italy. We visited several of the spots where Dan's book, The DaVinci Code was filmed.
Stephen King's book, 11/22/63 is one of my favorites.
Michael Crichton's chiller / thrillers are great, like Prey!
A new futuristic thriller author I'm enjoying is Douglas E. Richards. I've liked them all! I think I read Wired first.
Paulo Coelho's The Alchemist is also one of my all time favorite books. I think I've read it at least 4 times.
So many books to read, so little time!!
My 5-year-old granddaughter introduced me to
The Land of Stories series by Chris Colfer.
Just great fun and pure reading pleasure
even for adults!!
Finally, I just have to share what I'm reading now, thanks to my daughter and 5-year-old granddaughter. We're reading
The Land of Stories
series by the amazingly talented Chris Colfer. We're on book #5 - it was just released in July!! Oh my goodness, we just ADORE these books!
They are each about 400+ page chapter books, but we are flying through them. We can't put them down!! These are great books for kids, but even for adults. If you like mystery, magic, fairytales, intrigue, adorable characters, and humor, check these books out! You just might get sucked in and taken back to the place of your childhood's imagination!
Rhonda Paglia, "Grammy Pags" with her
5 grandchildren! We LOVE to read!